Excerpt from the chronicle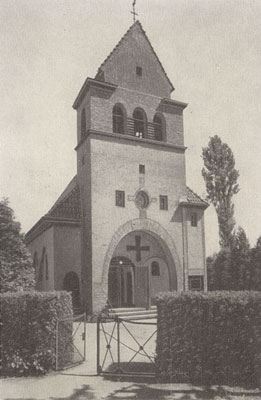 When the mission- parish of Wriezen was established in 1851, the priest got the order to celebrate the service also in the land- poorhouse in Strausberg - on the area of the medieval Dominican- monastery. In the institute- chapel, which was also used for the protestant service, appeared invalids, beggars and vagrants, and in addition, established catholic citizens.

But the city built, in 1853, for the latter its own chapel and a school. The school was dissolved by the government in the culture fight time in 1877. Because the chapel was always so overcrowded on the first floor, the people were scared the ceiling is going to fall down. So they transferred the service back to the land- poorhouse.

In 1899 the parish Strausberg- Rüdersdorf is formed, but the new priest Carl Brysch chooses to live in Hoppegarten, which was closer to the public transport. The first locally priest is Leopold Nowak (1906-07). A site for a building in the Weinbergstraße is acquired, the collection for the building of the church begins, but the plans which are already manufactured cannot be realised because of the War and the inflation. Finally in 1928 Priest Alwin Kopschina (1920-1932) can build the church. The building advisor adapted it to the style of the Mark Brandenburg. An altar wall painting shows the old monastery and the new church in a scenic and industrial environment. In 1933 Muencheberg- Buckow gets separated from the other parishes and an own parish is formed around 1950. After the establishment of the GDR, Strausberg becomes the seat of the Ministry of Defence. At this time Artur Schuldei (1934-64) is the present priest. In 1962 he also gets a new organ for the church. His grave is on church property. Under priest Gruetzner (1969-91) the tabernacle and the altar get build up with clinker bricks in 1978. With a redevelopment from 1992 to 1994 the Marianne- altar and the pulpit are build the same way.

Priest Gruetzners successor was Achim Sand which came to the St. Josef church in 1990/ 1991. After his death in 2005 Wolfgang Brummet took over his job and is now the new priest.